Let's just get it out on the table and call a spade a spade.  I'm single.
Between the 4:30pm and 11:30pm available reservation slots for tomorrow, the Anti-Valentine's Day sentiment "clashing" with the love fest of Valentine's Day, and all the hoopla about the commercialization of love, it's easy to be a little bitter.  I've done the boyfriend-and-dinner date Valentine's Day.  I've done the black shirt-and-frown Valentine's Day.  I've done my share of parties for Violentimes (lotsa garlic and back-to-back Kill Bill) for Valentine's Day.  And now this year, I plan to follow the words of Sir Paul and just let it be.
Valentine's Day has been shortened from Saint Valentine–the combination of two known Christian martyrs that went by the name of Valentine and honored on February 14th.  Not only was their martyrdom not romantic in the least sense (they suffered enough so why induce any self-inflicted love pain on February 14) but the significance of both of these were forged into one, linked to romance in the 14th century, and really not much has been known since.  Okay, Zeus and Hera's sacred marriage was during the month of Gamelion (February).  Thanks to Lupercalia, Ancient Rome, their archaic rite of fertility was observed February 13-15, so you can add that.  The first romantic connotation came from Chaucer's poetry about "Valentines" in the 14th century.  In his Parlement of Foules (the poem to honor King Richard II's marriage to Anne of Bohemia), Geoffrey Chaucer wrote:
For this was on seynt Volantynys day
Whan euery bryd comyth there to chese his make.
Not really the poetry I expect to be blurted out tomorrow evening, but hey, to each his/her own.  Thanks to the English Renaissance, we started instigating our ritual of courtly love in Paris on Valentine's Day.  And then, the wordsmith of them all, Bill Shakespeare, mentioned Valentine's Day in Hamlet.  Oh, Ophelia.  So there you have the very, very, very condensed version of the holiday.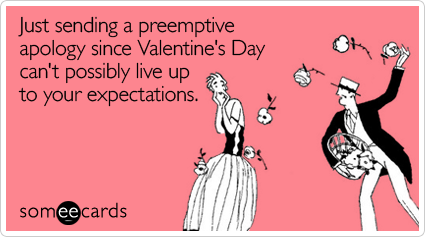 So here's my thought on Valentine's Day.  We all have loved ones, single or taken.  If you have a significant other, take this time and cherish that person.  The word cherish does not necessarily mean to spend beyond your means tomorrow on the attempt to "appear" to be someone.  Remember, they like hanging out with you because that's who you are.  A colleague of mine came up with a fantastic list for those in a relationship or looking to expand upon their dating horizons:
Healthy Option — An evening of partner yoga, shots of wheatgrass, followed by a soapy shower.
Outdoor Enthusiasts — Play hooky from work, snowshoe during the morning, smothered green chili burritos at La Loma for lunch, then afternoon napping.
Foodie — Pick one city/region in the world, be it in France, Italy or Chile and build an entire evening around it from the poetry to the food, wine, and desert, even the choice of DVD.
Movie Buff — Choose your favorite sexy movie, like 9 1/2 Weeks for example, and act out one scene in its entirety.
Sensory Deprived — Book back to back sessions in a sensory deprivation tank and then go the symphony that night, only once you're in your seat… blindfold each other.
You know, fun stuff like that.
As for those who I consider "free to roam," this is, and should be, a fun day, too.  While I've tried to mask this to save from vulnerability, I'm a hopeless romantic.  I love watching the cute stuff (some of it, yes, does make me gag), but I love witnessing the endearing connection of two people being in one moment together.  So my plan tomorrow is to go to the #twEATdrink happy hour at Williams & Graham and then I plan to spend my time with myself in the bar I love: Colt & Gray.  I plan to look and, more importantly, feel fantastic.  I'm spending it with my mentor and friend Kevin, who helped my sparked interest of fine spirits and food ignite into a passion.  And I'm spending it around people who are sharing a moment together on Valentine's Day.  Creepy?  Yes, slightly, but it's part of my charm.
One of the fantastic things about Denver off the Wagon is that between our more-than-30-writers, we all have different opinions. So with 2012's rendition of Valentine's Day, we'll bring you just that: various opinions, date recommendations, funny anecdotes, and lovely recipes.
Have a fantastic Valentine's Day, or have a fantastic Tuesday.  Either way, raise your glass in salute to you.